Posted on Thu 26th Nov 2015 at 12:18pm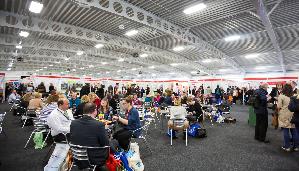 Showlite is proud to work with Revolution Events supplying the shell scheme and seminar walling at the recent 4th Annual EduKent Expo & Conference.
This is an important event on the educational calendar in the south east of England and is Kent's leading event for the promotion and development of effective school leadership, management, learning and teaching. It featured a high-level conference, inspirational workshops and a comprehensive exhibition of leading suppliers of services to schools and academies.
This event is of particular significance for Showlite Account Manager, Joe Ridler as this new client has committed their business to Showlite as a result of their past relationship with him whist in a previous event services role.
When we asked Nick Litton, Managing Director at Revolution what made him switch to Showlite he gave us some other powerful reasons:
"I've been working with Joe for a number of years during which time he has proved how completely he can be trusted to support us to deliver our events. He has such a sound understanding of what we want to achieve and how we like things done providing continuity both in the run up to events and onsite when things can often get a bit tense! Joe and the new team are flexible and proactive, adding a great personal touch to proceedings and are building great relationships with our exhibitors.
The fact that Showlite already has an excellent working relationship with the Kent Event Centre also helped considerably when we made the decision to change providers. To seal the decision I was impressed by their new stock and the way they have invested in structuring the company, strengthening their team by appointing experienced event professionals and the new UK distribution warehouse designed to service client events wherever they are held.
As a result of a successful delivery on site this November we have already confirmed Showlite as our delivery partners for the three Business and Educational shows we are staging at the showground during 2016".