Posted on Thu 4th Feb 2016 at 9:45am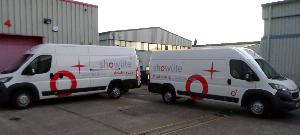 We've recently taken delivery of two more new Showlite liveried vans at our South Wales Warehouse and Production Unit.
Those of you who read our posts regularly will know that we had the busiest ever time in the history of Showlite last Autumn and we continue to strengthen our infrastructure to service our growing client base, as well as the increasing number and diverse location of the events and shows we are getting involved in.
We are also continuing to invest in shell scheme stock, due for delivery in Spring 2016, which will bring our current stock holding to 12,000 sqm.
It's an exciting start to what promises to be a very busy year for us!